Legislation and legislators on Congress.gov
How is your Member of Congress representing you?
Following legislation and how individual Members of Congress vote can be complicated. Bills are complex and multi-faceted, and members often selectively highlight only portions of a bill when discussing it. To be an attentive public, and hold Congress accountable, we need to know what is included in a piece of legislation or amendment. And perhaps most importantly, we need to know how our own Representatives and Senators voted.
Fortunately, Congress.gov provides a one-stop-shop for legislation, voting records, and congressional history, and legislator biographies. First, I'll go over how to look up specific legislation, understand what is in it, if it passed, who voted for it, and other details. Second, I'll detail how to look up a specific legislator to see what bills they cosponsored and other biographical information.
Researching legislation
For both searches, you will start on the same page and use the same search bar.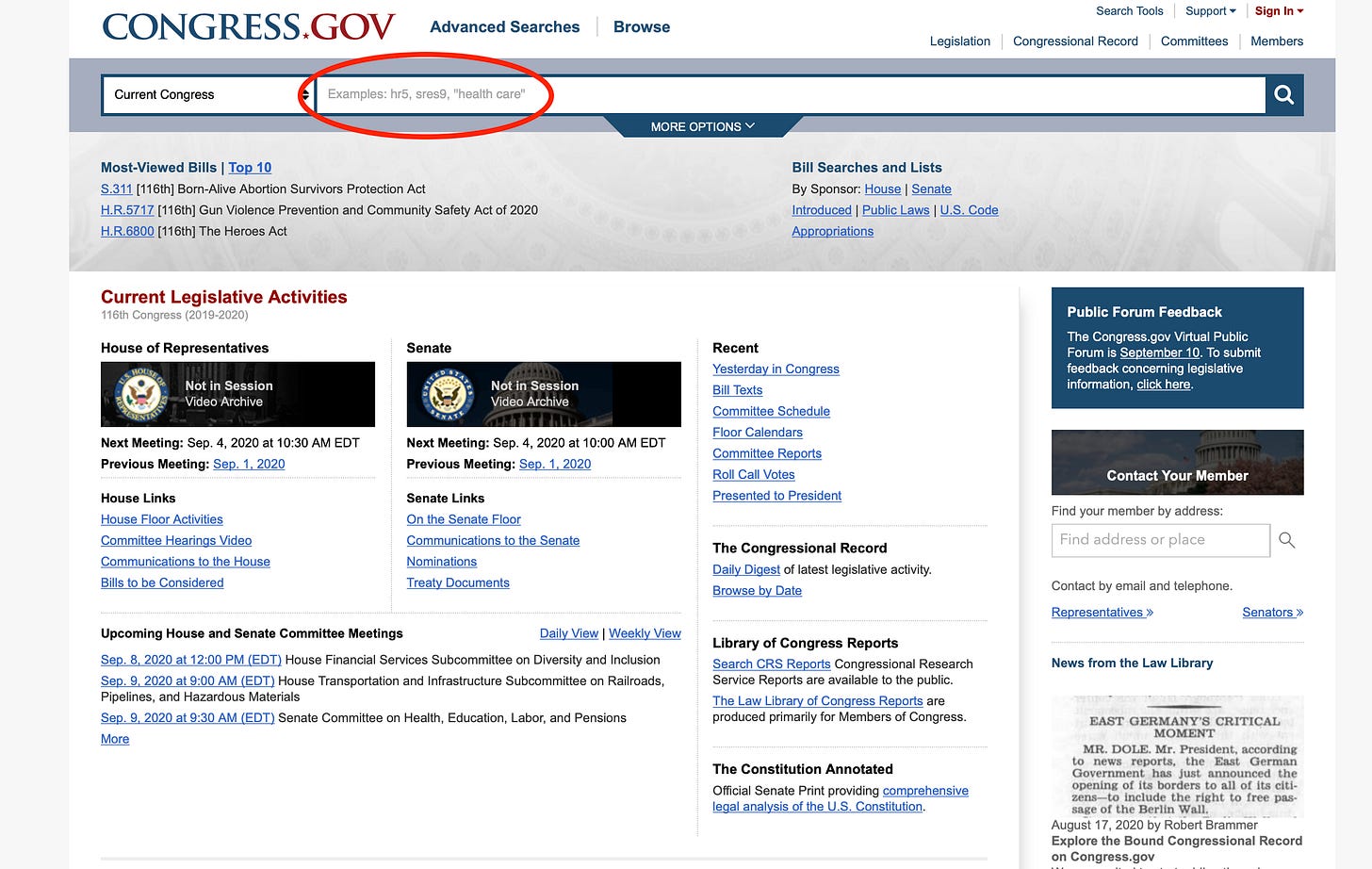 There are a few ways to look up legislation: by name or by bill number. You can also look up legislation by keyword. But first, you need to specify if you're looking for legislative activity from the current Congress (January 2019-January 2021), or from prior years: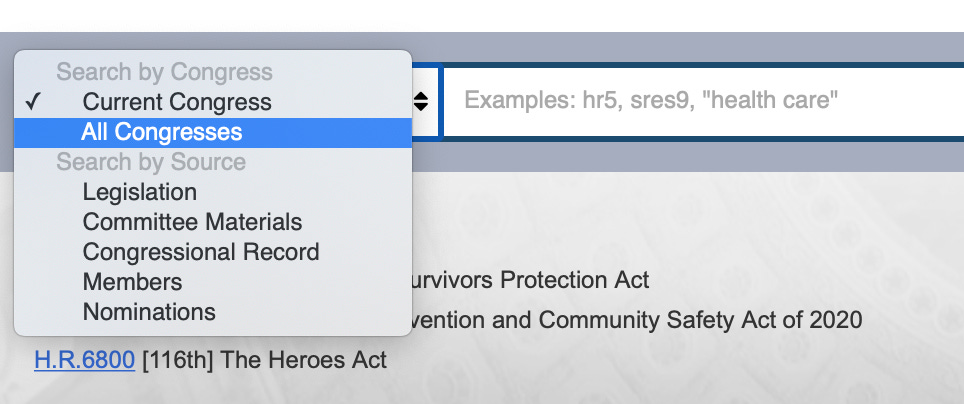 I searched the term "George Floyd" to find the most recent legislation on police reform. But this term alone brings up over 6,000 results. So, after searching, you can narrow your results by document type, bill type, and bill status under the "Limit Your Search" bar.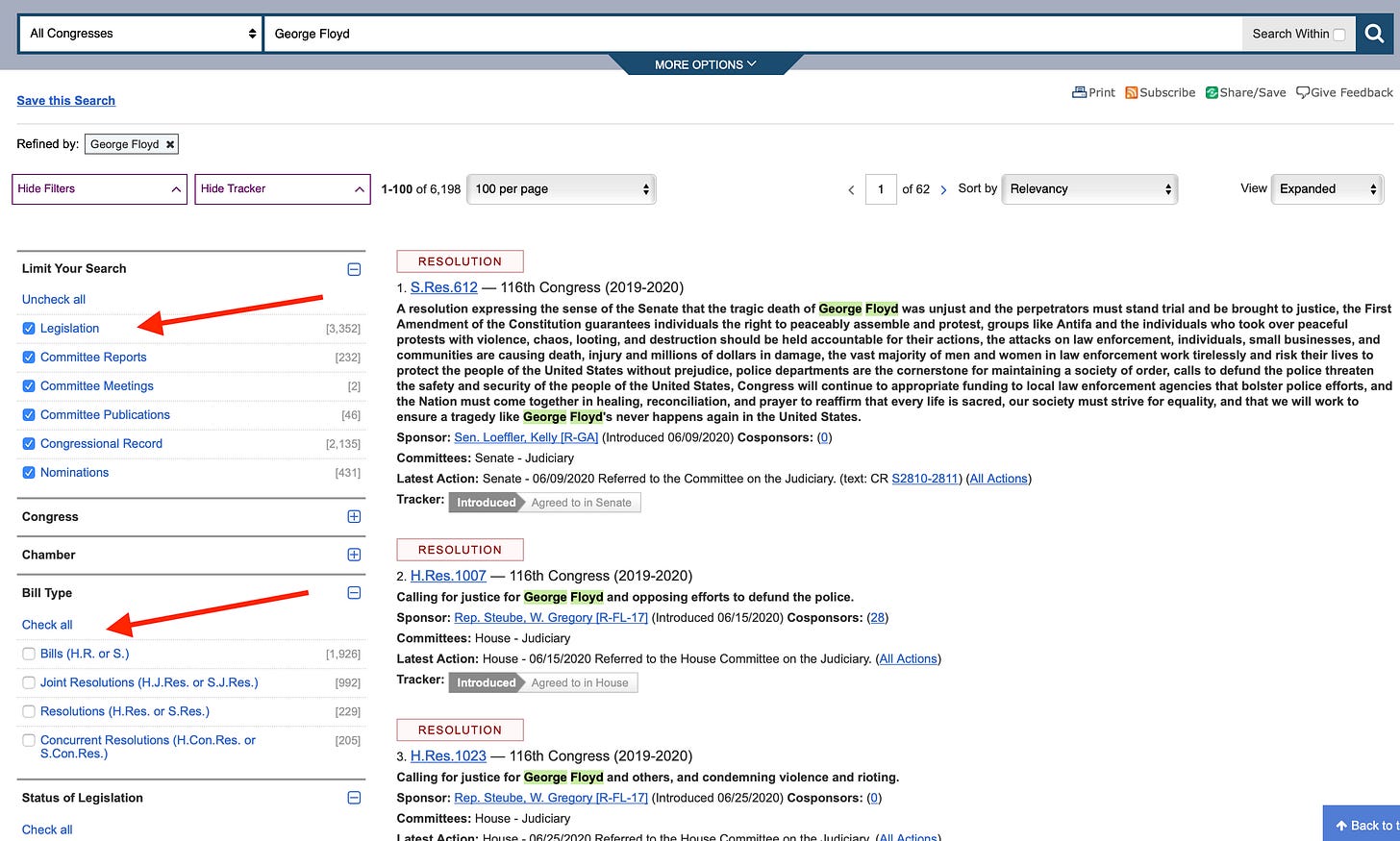 Words to know:

Legislation means bills. Committee reports, committee meetings, and committee publications will include transcripts and committee research. The congressional record is the daily report from the floor (speeches, calendar updates). Nominations are documents that pertain to federal nominations.

"Bill Type" includes Bills (H.R. or S), that are introduced in the House and Senate (H. R. means House Resolution, so it was introduced in the House. S. means it was introduced in the Senate). Joint Resolutions are bills that require approval from both chambers to pass. Resolutions however, are more like announcements that apply to the chamber. You'll notice there are a lot of resolutions in these results in particular that are merely making a statement like, "opposing efforts to defund the police" or "condemning the tragic death".

"Status of legislation" refers to what stage it's in. They are essentially listed in chronological order. But here's a video overview!
To refine our results to the police reform bill that was passed by the House, I selected "Legislation", "Bills (H.R. or S.)", that have "Passed one chamber". The top result is H. R. 7120, the George Floyd Justice in Policing Act.
Now, how to read it? The summary tab offers a substantial, section by section overview of what is in the legislation. Usually it will suffice for an understanding, but below outlines the rest of the information available on this page.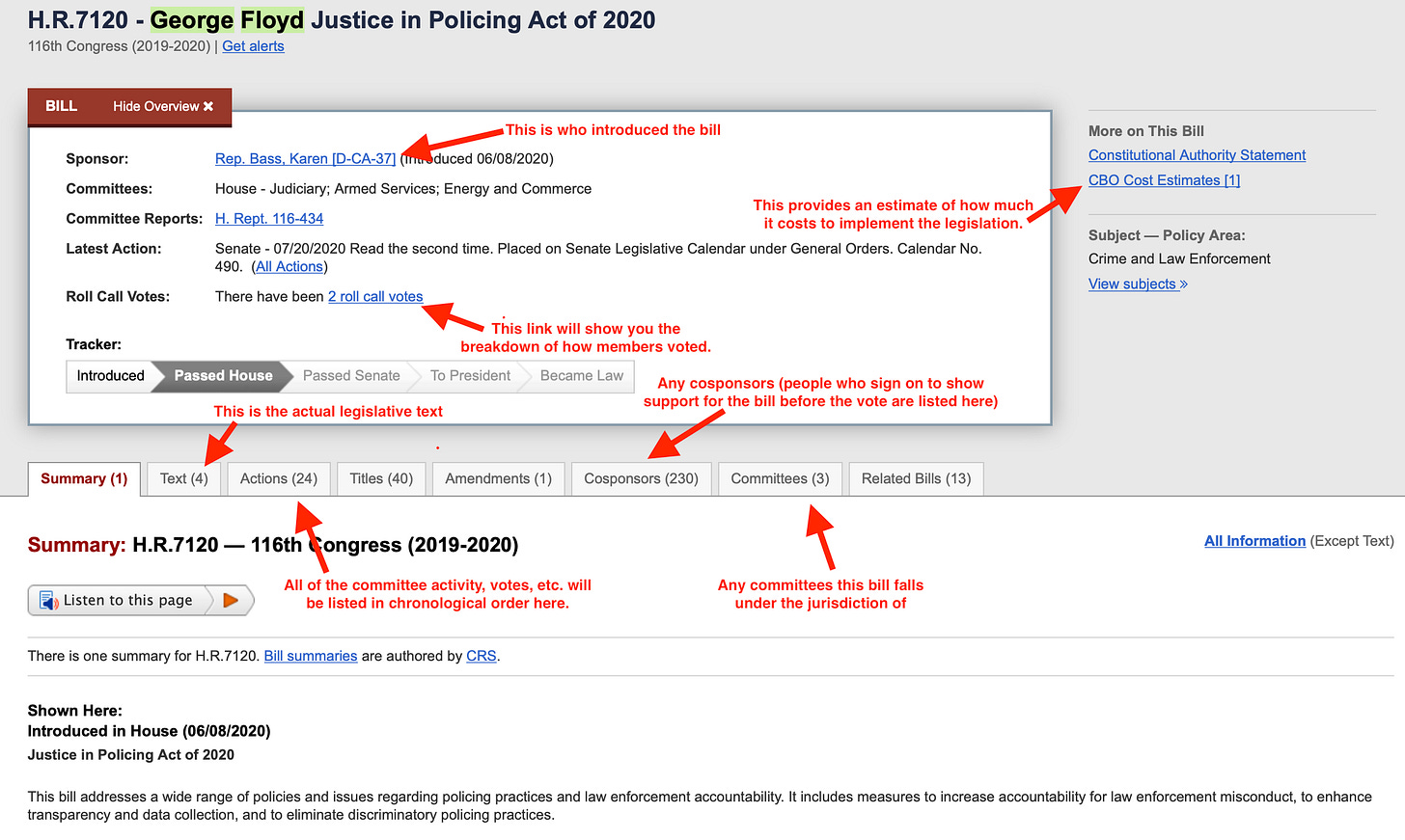 The best way to look up legislation, or to make sure you're examining the right one, is to search by bill number (in this case, H. R. 7120). Most journalists will include this in their reporting. Every bill introduced in Congress will have a unique number. Just make sure you show results from the correct congressional session—bill numbers are reused at the start of each congressional session.
Looking up a specific legislator
Now, on to specific people. You'll start with the same search bar. Select "Members", and search the Senator or Representative you're interested in (you can even use this to search former members):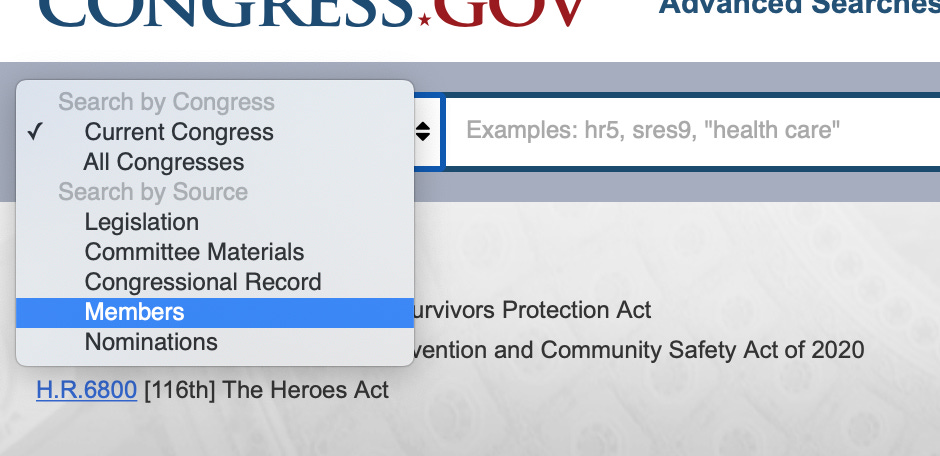 The bio at the top of the entry will show you a map of the district, contact information, committee assignments, and congressional remarks.
Scroll down, and you can see all of the legislation the member has cosponsored during the congressional tenure. Like the search for legislation, you can filter by status or chamber of origin.
Interested in seeing how effective your legislator is? Compare the amount of total legislation sponsored and cosponsored (number of introduced) against the legislation that actually became law.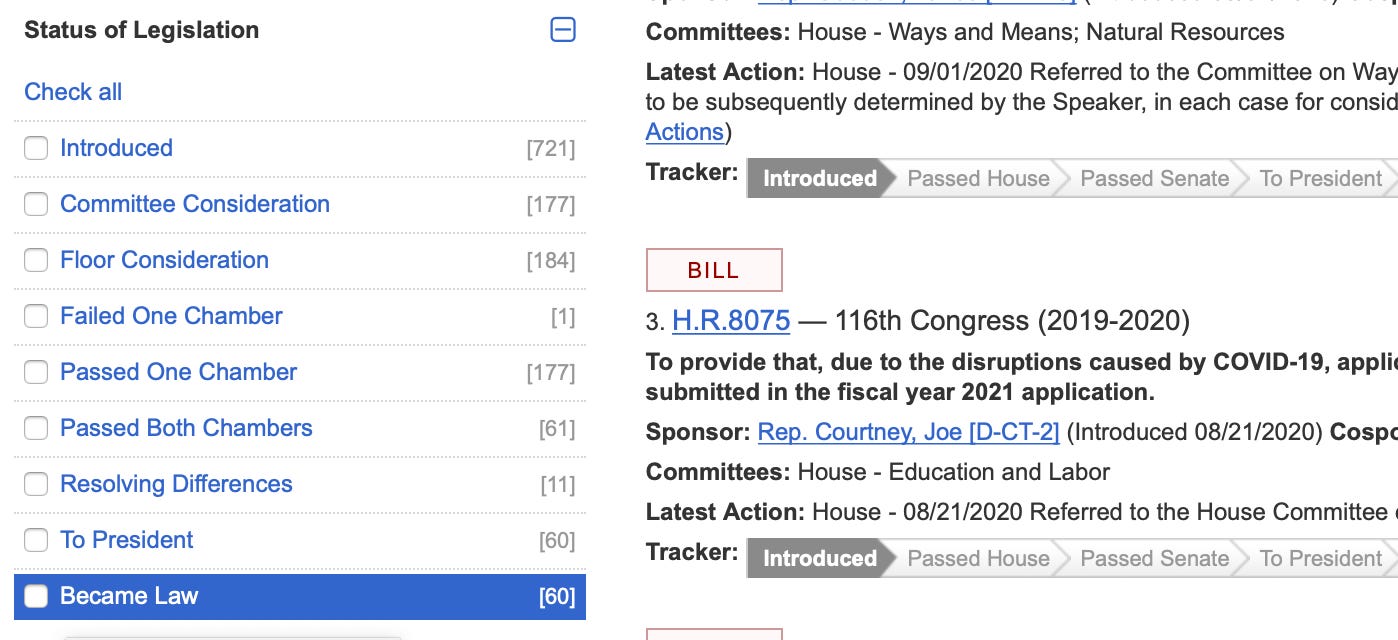 To view their voting record, you will select "View Member Committee Assignments and Recent Votes" at the top right of the page. For House members, it will redirect you to Office of the Clerk. There, you can see every recent bill and amendment the member voted on.
It is easier to see how a member voted on a specific piece of legislation or amendment by searching for the bill, and viewing the Roll Call results (as detailed above).
With the upcoming election, it's important to remember there is more on the ballot than the President. Take time to evaluate your Representative and Senator (if applicable) to make sure they're voting and introducing legislation that adequately represents to your district and interests.
More questions about Congress.gov, the legislative process, or members of Congress? Let me know! Happy searching!