The Procedure and (brief) History of Judicial Nominations
The Senate can get a little... messy.
Hello new subscribers! Thanks for following Attentive Public, and happy first day of fall. Unlike prior posts that focused on data sources, this entry provides a nonpartisan overview of the judicial nomination process in the U.S. Senate.
Like most processes in the Senate, judicial nominations can be complicated. If you're confused, you're not alone. Senators often rely on slight technicalities to make the conversation more about Senate procedure than the actual nomination.
That is certainly the case today. Following last week's death of Justice Ruth Bader Ginsberg, Senate Majority Leader Mitch McConnell announced his intention to bring forward the current president's new Supreme Court nominee prior to the November 3 election—immediately shifting conversation to the procedure used to advance a Supreme Court nominee, rather than nominee qualifications.
In order to follow along with both the political and policy dynamics, we need to have a clear understanding of procedure. First, I'll outline the current process for judicial nominations. Then, we'l look at how the judicial nomination process has changed in the past decade. I'll wrap up with how this applies to common questions.
Heads up: It gets a little messy.
Word to know

Norms: These aren't binding requirements or legal statues, but merely unwritten expectations. The claim that the presidential election should determine the nominee is a norm—there are no rules or requirements for this. Other examples of norms in U.S. politics include the presidential nomination process, or the expectation for the politicians to give press conferences.
The current judicial nomination process in the U.S. Senate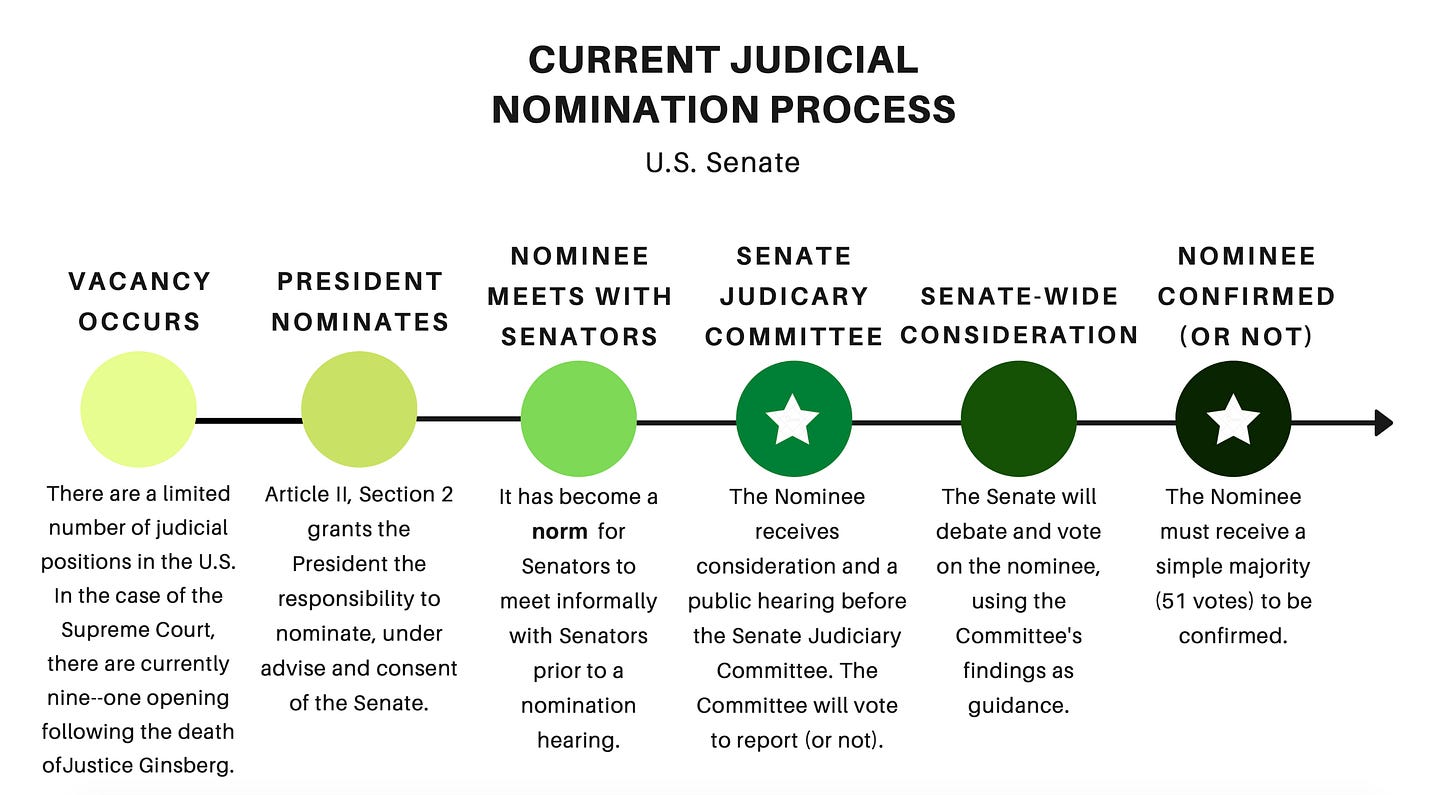 Above is a quick overview of the current Senate nomination process. The stars indicate "pressure points" where you as a constituent (in theory) have an opportunity for input. Today, we're right at the start of the nomination process: awaiting the President's nominee.
The first pressure point is the vote in the Senate Judiciary Committee. The Committee holds a public hearing where they present hypotheticals to the nominee and questions on their temperament or judicial theory. Here, the nominee will face their first vote. They must receive a simple majority (12 "yes" votes) to proceed to the next stage. (There are 22 Committee members. A tie would likely proceed at the direction of the Chair.)
For constituents eager express their support or disagreement with the nominee, at this point you would contact the senators on the Judiciary Committee. Here is the full list of the 12 Republican and 10 Democratic members of the Committee.

For nominations expected to fail, the Committee is more likely to take no action. This is what happened with Merrick Garland's nomination in 2016. In this case, you as a constituent could demand a hearing.
After this, the full Senate—all 100 senators—consider the nominee. They will speak on the floor, reference their statements in the Judiciary Committee, and ultimately take a vote. Today, a simple majority (51 votes) is required to pass a judicial nominee.
Here is our second pressure point. Every senator votes. You can reach out to your Senator (unless you live in D.C., where you don't have one!). Find your Senator here.
Recent history of the Senate confirmation process
Fifty-one votes for approval hasn't always been the threshold, and ignoring a president's nominee is a new norm.
Words to know

Filibuster: By definition, a filibuster is any obstruction to move forward on legislation. In the Senate, this happens in two ways: It can be a long speech to delay action (as fans of Mr. Smith Goes to Washington will recognize). More commonly, it will be a request for a vote. Members of the minority party will filibuster when they don't think the majority party has all 60 votes. This additional vote also slows down the process.

Cloture: The vote to end debate or a filibuster. Thus, legislation in the Senate (and Supreme Court nominations prior to 2016) are often subjected to two votes: a cloture vote (60 votes) to end debate, and a second vote on the actual legislation.

Nuclear option: This is a rules change that amends "Rule 22"—a.k.a. the cloture requirement—to allow certain votes to ignore the 60-vote threshold. This has been invoked twice regarding judicial nominations.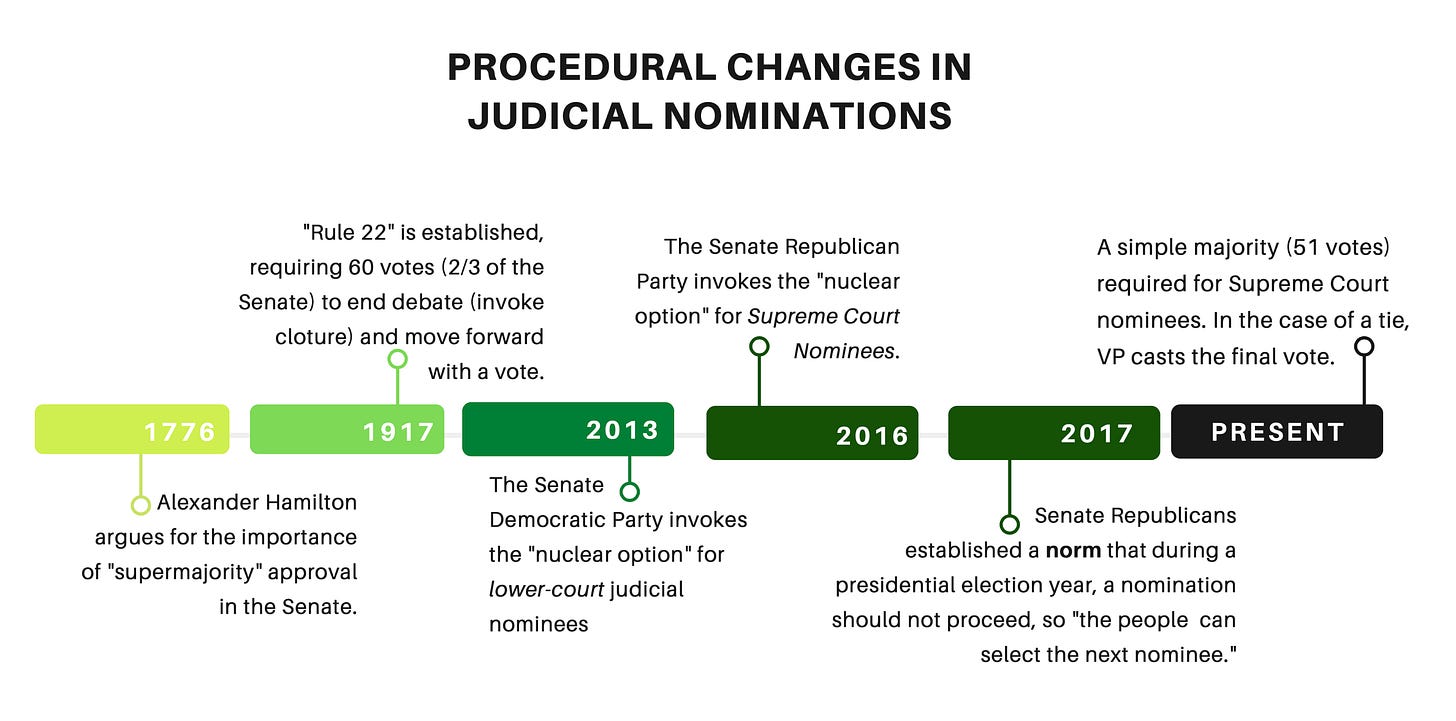 As stated above, today, only 51 votes are needed to approve a Supreme Court nominee. This was changed in 2018 by Mitch McConnell and Senate Republicans. The groundwork for this was set by then-Majority Leader Harry Reid (and 52 fellow Senate Democrats) in 2016, who invoked nuclear option for lower-court nominees. In both of these changes, McConnell and Reid "reinterpreted" Rule 22 (the requirement for 60 votes) to exempt judicial nominations.
It's worth noting that both of these changes were a BIG deal. Rules changes are extremely rare. And prior to these changes, the nuclear option was often threatened, but never invoked.
However, unlike these rules changes, the decision to delay consideration of a nominee until after a presidential election (as McConnell and Senate Republicans did in 2016 with President Obama's nominee, Merrick Garland) is a norm.
So, who's right?
The main point of contention is that Sen. McConnell is moving forward with a nominee, despite setting a norm in 2016 that an upcoming presidential election was justification to delay a nomination. Given the vacancy in 2016 was eight months before Election Day and the current vacancy is just 41 days away, this norm violation is particularly egregious.
But technically, it's well within McConnell's constitutional right to move forward with a nominee, or not. All the Constitution says about this is that the president shall appoint officers of the United States "by and with the Advice and Consent of the Senate." Thus, as is often the case with the Constitution, it's open for interpretation.
The only thing stopping Senate Republicans is a norm argued they argued for themselves four years ago. And their choice to ignore that norm is also well within their right. Senate Republicans are merely going back on their word.
So what are Republicans saying?
They're well within their constitutional right to confirm or deny a nominee. (Correct!)
The main difference this time is the shared majority-party control of the Senate and White House. (Irrelevant. This is just an interpretation of "advise and consent." There is no rule or legal precedent justifying this argument.)

Senate Democrats invoked the nuclear option first! (Correct-ish. Remember, Senate Democrats only invoked the nuclear option for lower-court nominees. It was Senate Republicans who expanded that to Supreme Court nominees.)

Senate Republicans had no choice to go nuclear! Justice Gorsuch was the "perfect" candidate who should have gotten 60 votes! (Up for debate. Senate Democrats felt the same way about their stalled nominees.)

Democrats want to pack the courts! (A hypothetical diversion. Joe Biden has said he has no interest in this, and most Senate Democrats have said the same. It is merely a hypothetical that hinges on Senate Republicans' own actions—Democrats likely wouldn't want to pack the courts if there was a consistent in the application of Senate norms.)
Bottom line: Both parties want to use procedural powers (rules and norms) to get their preferred candidate on the Supreme Court. What actually occurs depends on who's in control of the Senate.
Why are Senate Democrats letting this happen?
Well, the U.S. Congress is a "majoritarian" institution. In the case of the Senate, it means the majority party (mainly the majority leader) gets to make the rules and set the calendar. Senate Democrats don't really have many tools at their disposal, beyond the filibuster and a "no" vote.
Getting rid of the nuclear option in 2016 for lower-court nominees was a gamble, the impact of which we're witnessing today. But because Senate Republicans are fully in control of the chamber, under a majoritarian institution, any application of norms is their choice.
Yikes, this sounds really partisan!
It is. And it's important to note that has not always been the case. Supreme Court nominations are historically non-contentious. Prior to 2016, the majority of Supreme Court nominees passed with overwhelming support. Justice Ginsberg was approved 96-3.
This largely changed after Justice Antonin Scalia passed away in February 2016. President Obama nominated Merrick Garland, who made it to the second stage outlined above (informal meetings). But Garland was never granted a hearing in the Judiciary Committee.
This, in my opinion, is the most dangerous result of this debate. The Supreme Court is intended to be the third branch of government, separate from the partisanship of the legislative and executive branches. This gamesmanship of the Supreme Court risks tainting the objectivity (and thus legitimacy) of the judicial branch in the eyes of the American people.
Is this all, "normal"?
Norms change, so it can be difficult to compare this moment in history with nominations prior. But, there are two notable statistics that make this an unprecedented nomination:
This will be the quickest Supreme Court nomination. Prior to this, Justice Ginsberg had the shortest nomination process at 50 days. Given the Senate Judiciary Committee plans to begin hearings on October 12, and McConnell has expressed concluding this before the November 3 election, the maximum amount of days this could take is 40 days (although it will likely be less).

This will also be the closest confirmation to an election day. While the Senate GOP argued in 2016 that March was too close to an election day to proceed with Merrick Garland's nomination, in the past two decades there have been two successful nominations closer than March—Justice Breyer was nominated in May 1994, and Justice Souter in July 1990. However, this current nomination is easily the closest nomination to an election day, ever.
So should I contact my representative?
Nope. The nomination process (not only for justices, but for all Presidential appointees) only occurs in the Senate. Doesn't really matter what your favorite Rep. says—it's all about those 100 Senators.
So, what happens next?
The next few weeks will be contentious. The president will nominate someone as soon as this week. The Senate Judiciary Committee will begin their hearings October 12, and the Senate will likely vote before November 3.
As an attentive public, you can voice your support or disagreement with the process and nominee at the aforementioned pressure points. But beyond that, the only tool is your vote. Don't forget to register on time!
Hopefully this overview helps. As always, let me know if you have any questions, comments, concerns.
And for those wanting to follow along at home, some suggested reporters:
Niels Lesniewski, CQ Roll Call. This guy is the procedure expert.
Seung Min Kim, Washington Post. Top-notch Senate Reporter.
John Bresnahan, POLITICO's Congressional bureau chief.