Money, money, money
Always sunny in a rich man's world: Two data sources to track campaign donations
As anyone who's ever received a political campaign email knows, campaigns love money. Beyond the obvious things campaign donations support—staff, advertisements, and operating costs—money is power. It's used as an indicator of the strength of the candidate and campaign, and for donors, money provides access and even policy outcomes.
But as individuals, we have powerful tools to track these funds. Thanks to a series of campaign finance reforms, (most) campaign donations are public records. This post goes over two nonpartisan sources to help you track campaign finances to become masters of the seas (you know what I mean).
First, OpenSecrets.org: this site is great to observe larger campaign trends. While there's lots to discover on this website, I use it to see who is donating to politicians.
And second, FEC.gov: this is the official website of the Federal Election Commission. Here, you can look up donors and recipients—from your next door neighbor to the President of the United States. I use this website to look up individual donors.
Lastly, at the bottom, I answer a submitted question about Act Blue. What is Act Blue and where does it fit into campaign finance? (Hint: it's more like PayPal than a PAC).
Words to know

PACs: Because there are limits to how much individuals can donate directly to candidates, Political Action Committees (PACs) provide a loophole for larger sums of money. While individual donors can only donate up to $2,800 to candidates, donors can donate up to $5,000 to PACs. In return, PACs can then donate higher levels to candidates as well.

PACs have been around since the 1940s and are affiliated with certain industries, organizations, or ideological groups. Politicians can also have their own PACs (called "Leadership PACs") that they use to donate to other candidates.

Super PACs: These are the big guys—Super PACs can raise and spend unlimited funds on campaigns. However, the catch is that Super PACs can not donate directly to candidates, and cannot legally coordinate with candidates. Instead, they will use their own money to donate to other PACs or pay for attack ads.

Dark money: These are organizations that do not have to report the source and recipient of their campaign donations, due to tax-exempt status. 501(c)(4) groups are the most common source of "dark money"—groups like the NRA and Planned Parenthood fall into this category.
Now, gimme, gimme, gimme the details!
OpenSecrets
First, let's take a look at who is donating to candidates and politicians. While OpenSecrets.org has a lot of information to offer, they are great for compiling information on who is donating to (and ultimately influencing) candidates.
Start on the home page, and head to the search bar. Type in the name of the candidate or politician you'd like to research:

The search result will bring up articles or results for specific election cycles. But click on the "Fundraising Profile" link (it should be near the top).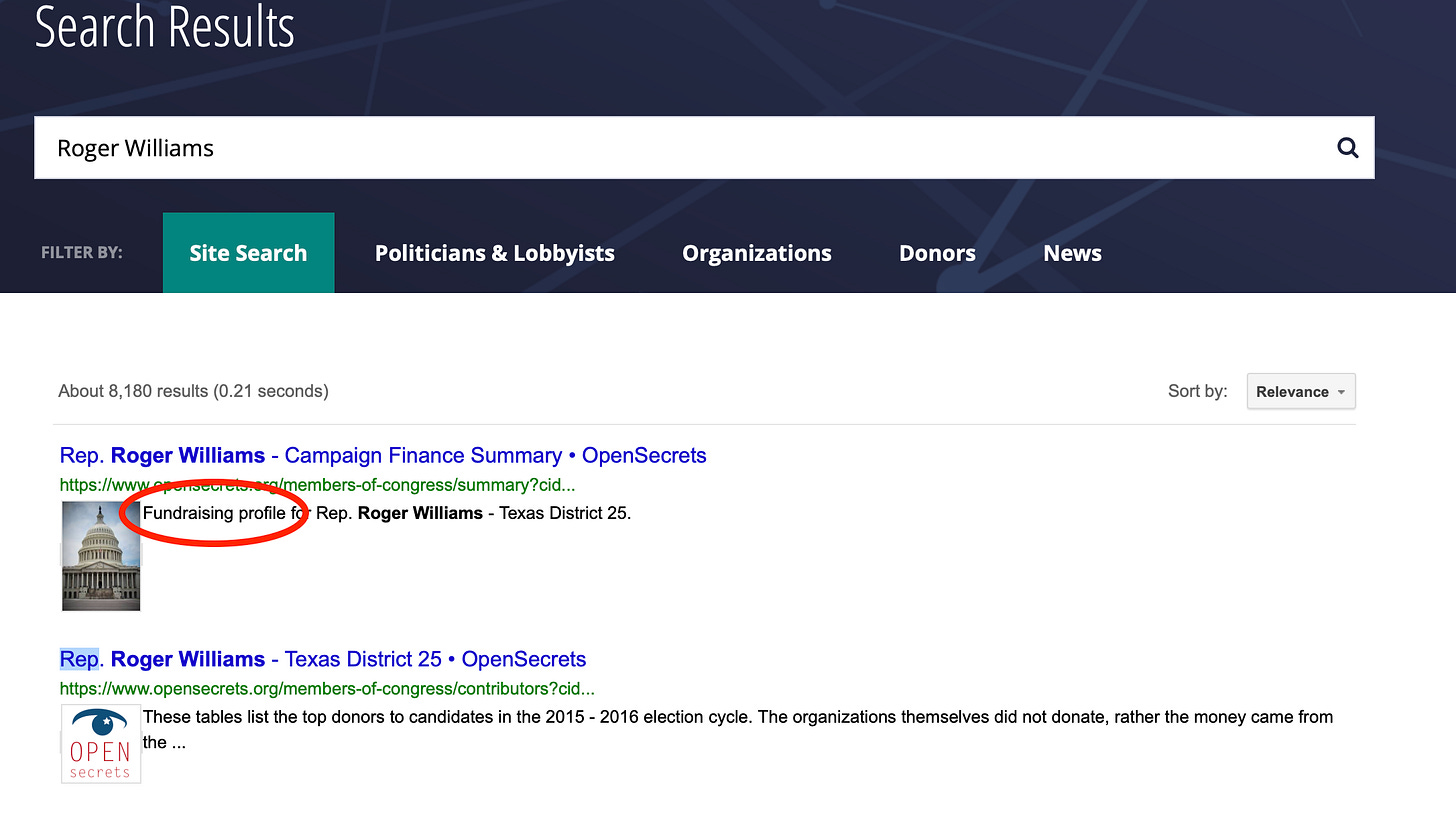 The profile page has a lot of information, clearly! Below is an overview of the different ways you can break down campaign donations, using Roger Williams (TX, 25th district) as an example.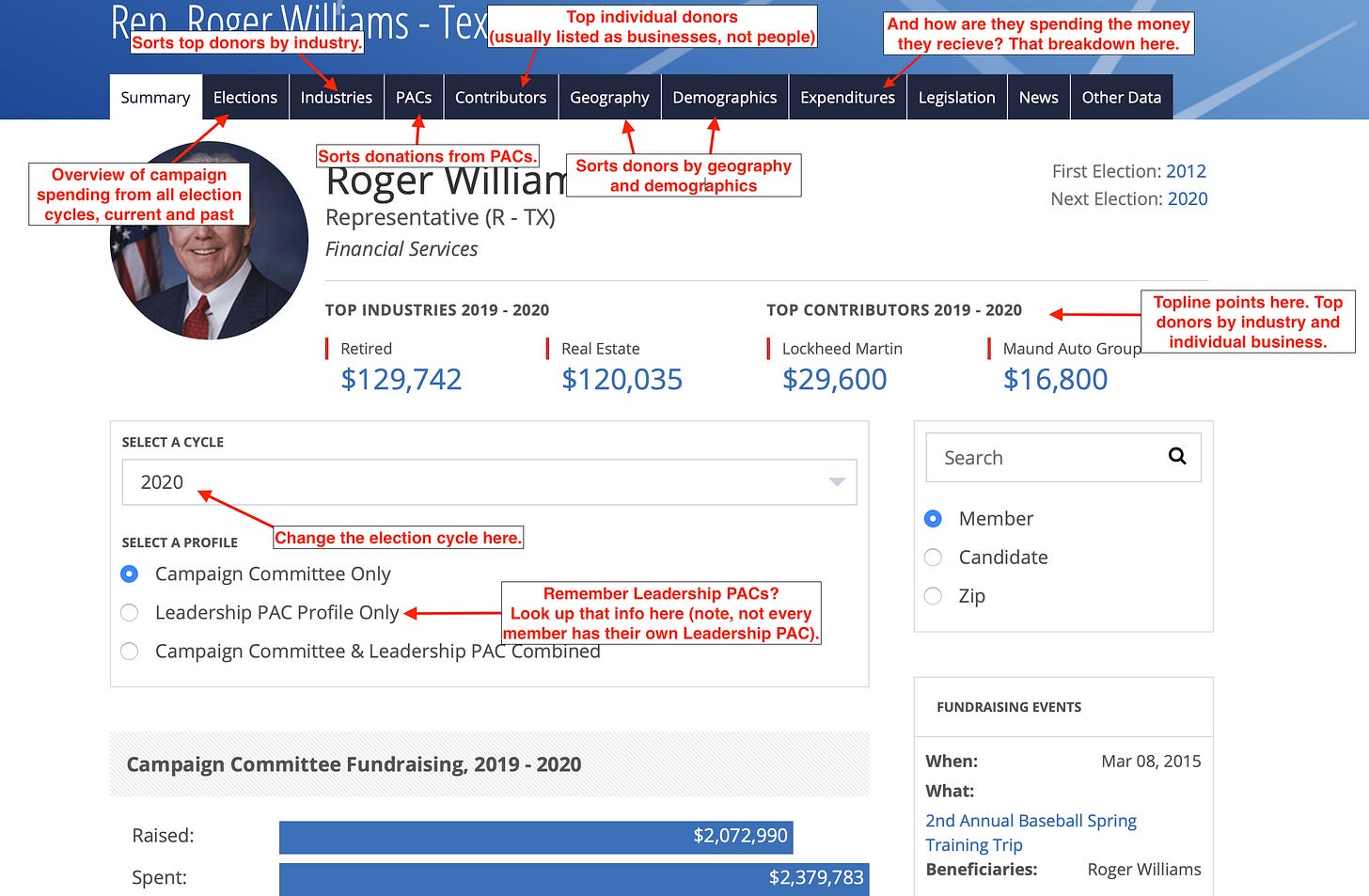 The great thing about OpenSecrets is they compile FEC data and create up-to-date, easy-to-read graphics. For example, let's look at the top donors by industry to Rep. Williams in the 2020 cycle. Click on the "Industry" tab, and scroll down to "sector totals":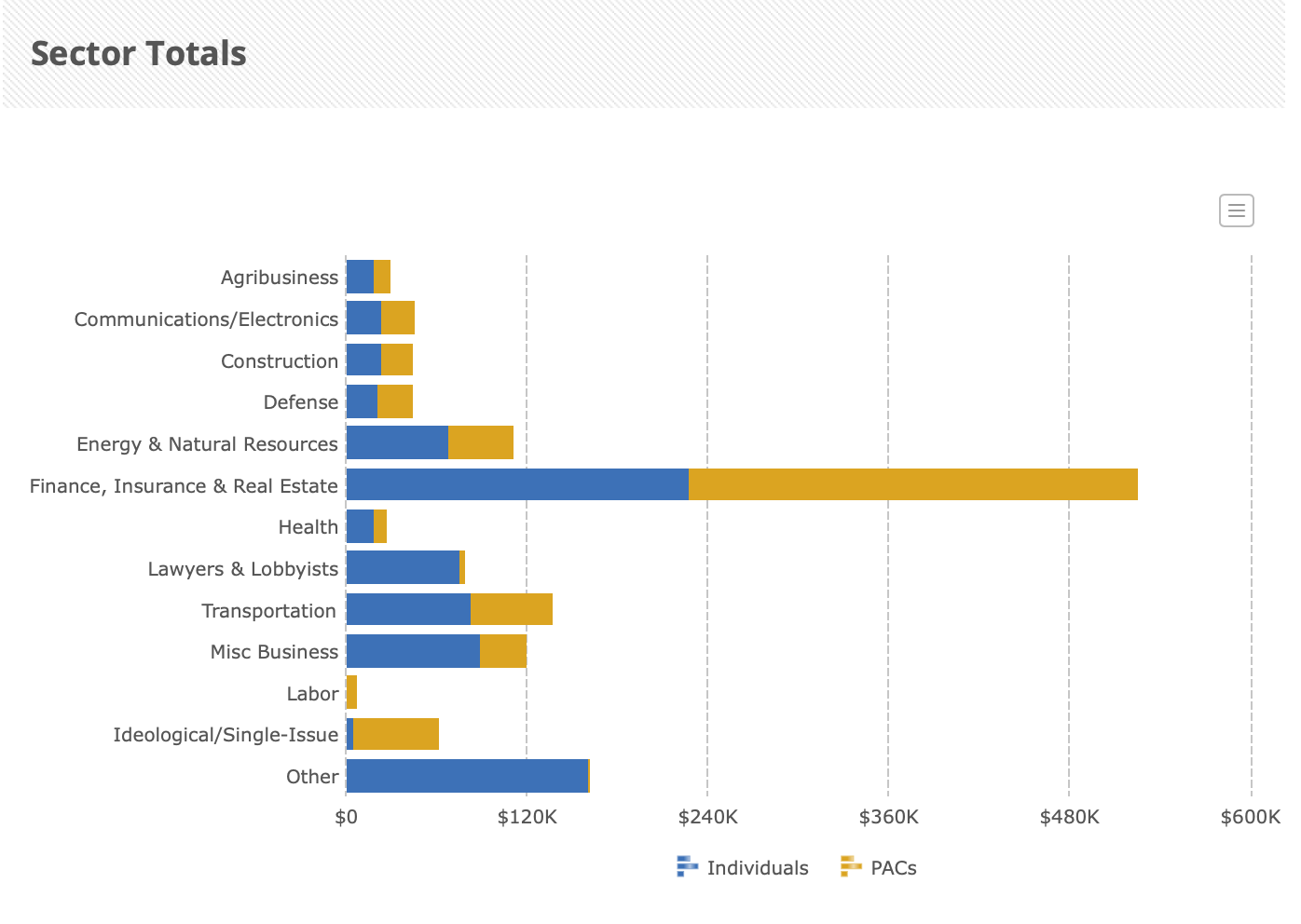 Given that Rep. Williams is a member of the Financial Service Committee, it makes sense that his top donors are from industries most affected by legislation from that committee. This data can also be downloaded as a csv file on the same page, for those interested in more advanced data manipulation.
Lastly, while these are the top donors for Rep. Williams, we can also see the inverse. Scroll up, and we can see that Rep. Williams is one of the top recipients from the auto dealers and automotive industry (as a car dealer ownership himself, this checks out):

If you're interested in looking up donations by industry, regardless of Member, the PACs landing page is a good place to start. Start here, and select your industry of interest. You can also breakdown donations by political party, too.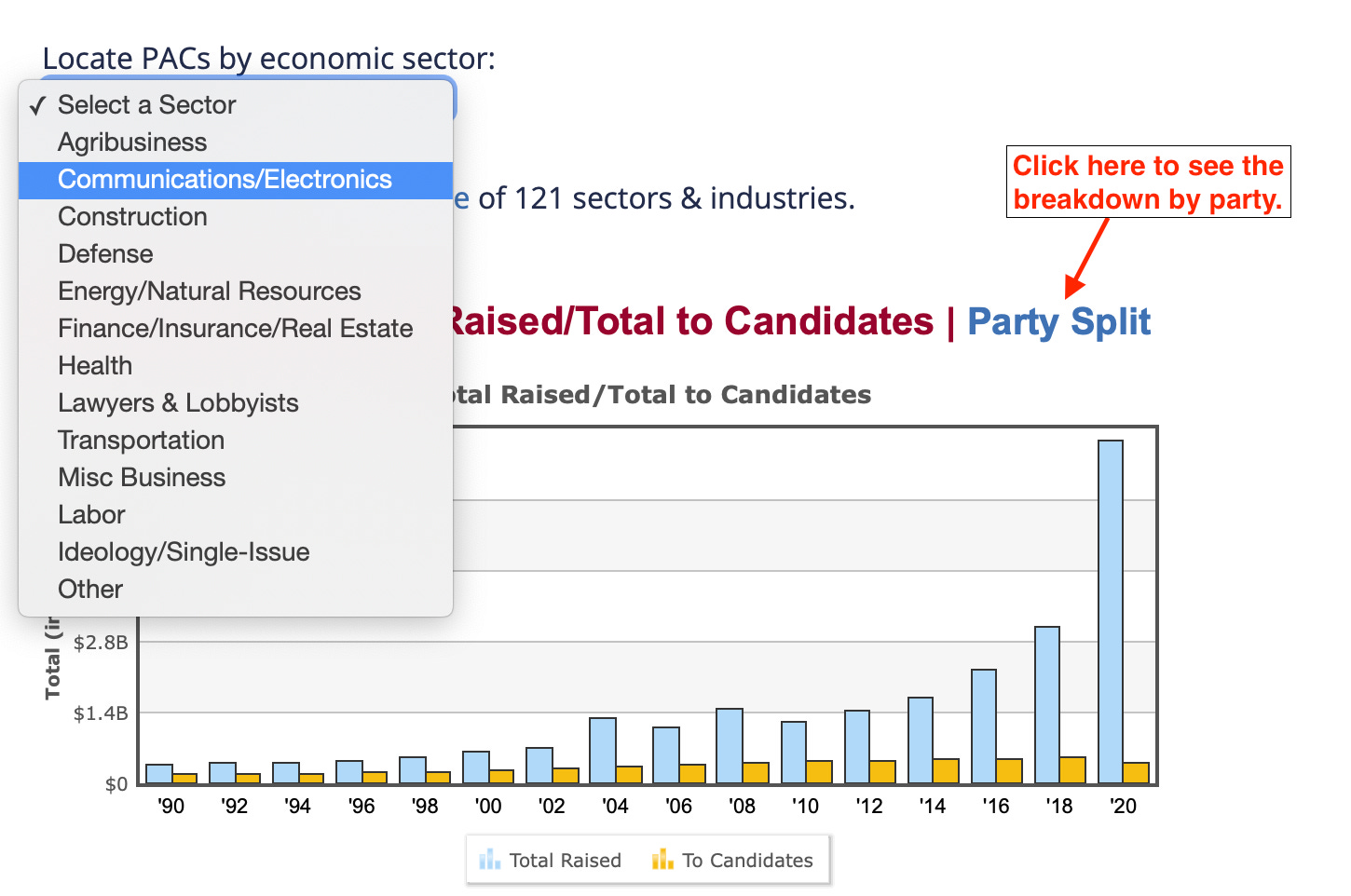 The great part of OpenSecrets is that they're totally transparent. They provide raw data, as well as links to FEC filings. So take a look around, download the data, change the years, and do some sleuthing. Then, if you really want an adventure, compare the donations with the legislation candidates eventually support.
Federal Election Commission (FEC)
This is the government website that houses all of the required information for campaign filings. All of the data from OpenSecrets can be found here—but while it can be overwhelming to compile encompassing information about candidates and PACs, it is really easy to look up individual donors. Want to know who your neighbor is donating too? Or the CEO of your favorite fitness spot? Hollywood celebrity? Head to FEC.gov.
Again, start on the home page. Click the tab "Campaign Finance Data" and select "Look up contributions by specific individuals":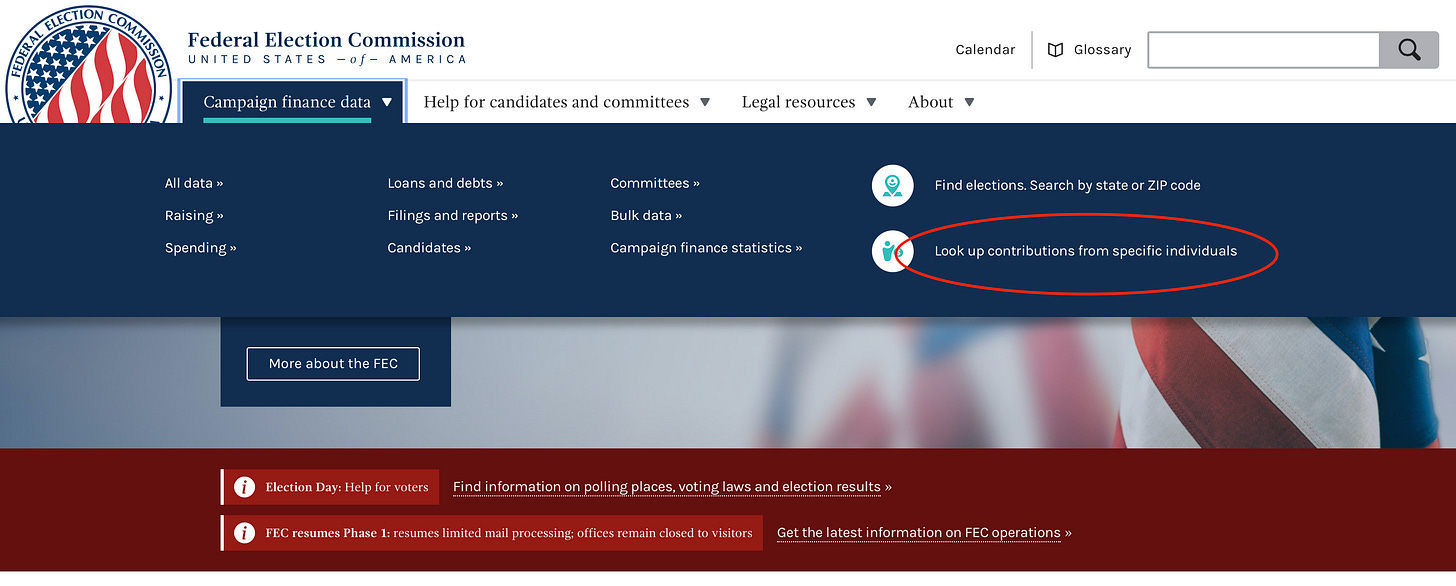 It takes you to the below page. The names on the right list campaign donations in chronological order (the names at the top are "earmarked" contributions—similar to church pledges). As you can see, without filters, there are over 138 million results, just for this year.
To look up certain people, use the filter options to the left. Here, you can type in names, employers, zip codes, etc. You can also change the time period—these results show the 2020 cycle, but you can go back in time as well.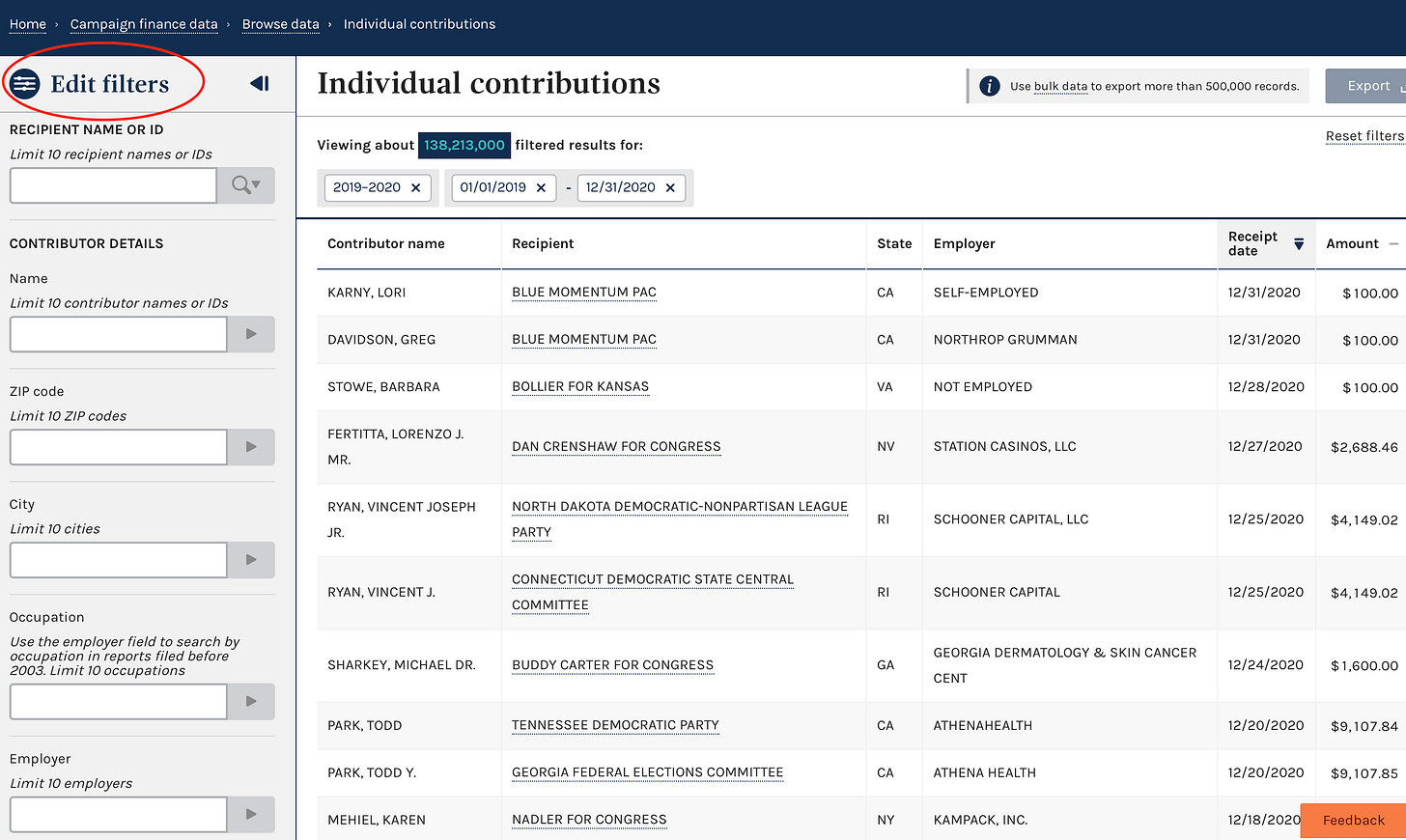 While you can search by recipient (candidate) name, we're going to look up donors. As an example, let's see what America's favorite billionaire, Jeff Bezos is up to. I typed in "Jeff Bezos" to the "Contributor Details" search bar. The results show four donations by someone named Jeff Bezos.
Given what we know about Jeff Bezos, the CEO of Amazon, I think it's safe to assume that three of these four entries belong to him. The fourth, a small Act Blue donation from Vermont, is likely someone else who just has the same name.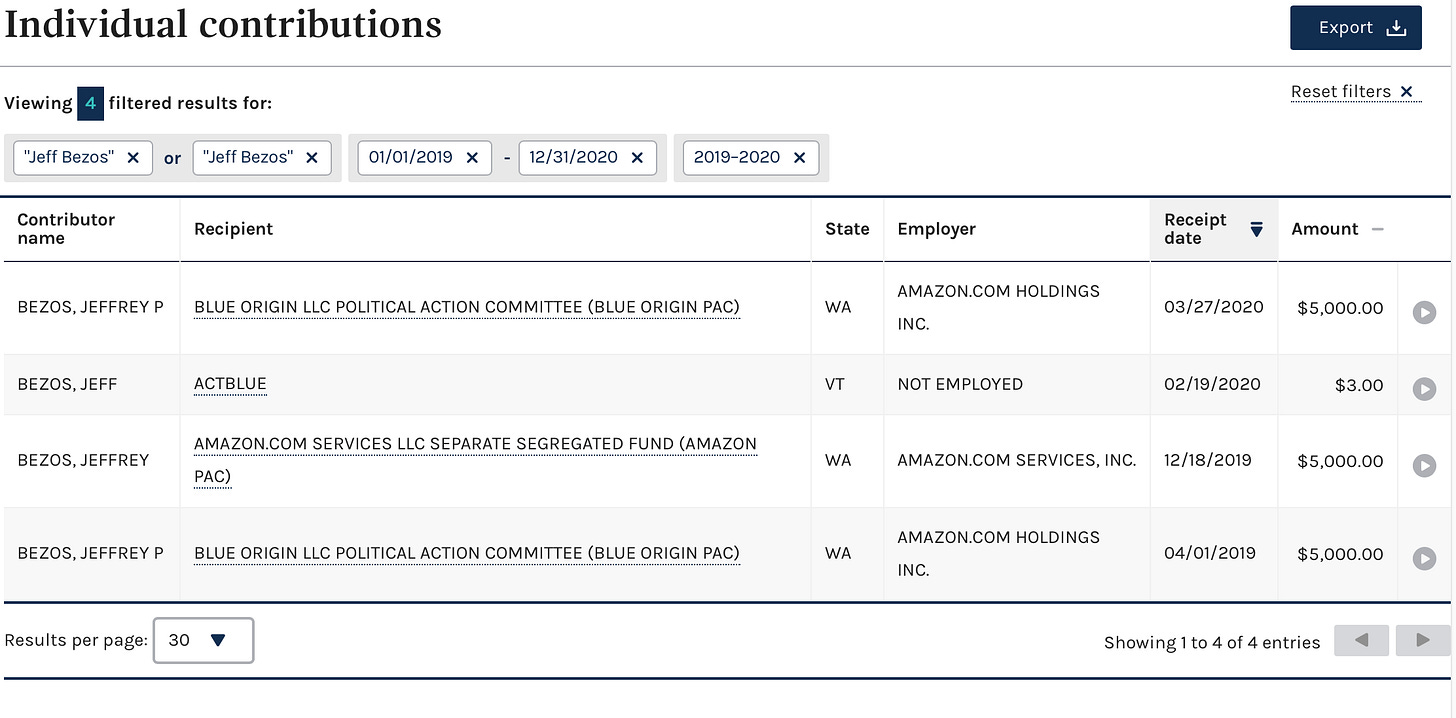 As outlined earlier, there are limits to how much individuals can donate to candidates—no matter how rich they are. Thus, we can see that Jeff Bezos has donated the maximum amount ($5,000) to two PACs. Now, we can use what we know about OpenSecrets to then see who these PACs donate too:
The reverse-search shows us that this PAC donates to both Republicans and Democrats—interestingly, the donations largely go to Republicans in the House, and Democrats in the Senate, both the minorities of both chambers.
But what if we want to look up someone… normal? FEC.gov can do that, too. Using "Catherine Smith" as an example (I do not know a Catherine Smith, just an example name), we can see several different individuals. Use employer information and state to help you find the person you're looking for.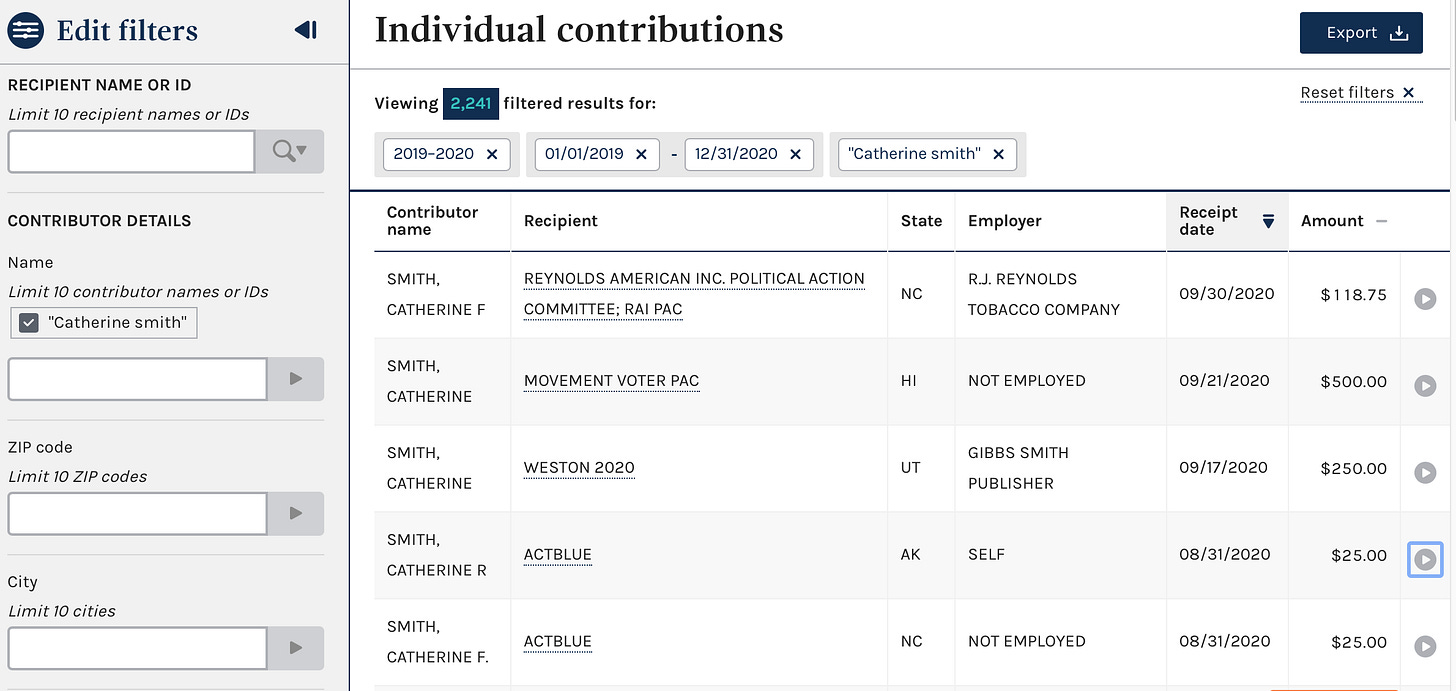 So why does it just say ActBlue, instead of an organization or candidate? ActBlue is simple a platform that facilitates campaign donations. To see where the money actually goes, click the arrow next to the donation: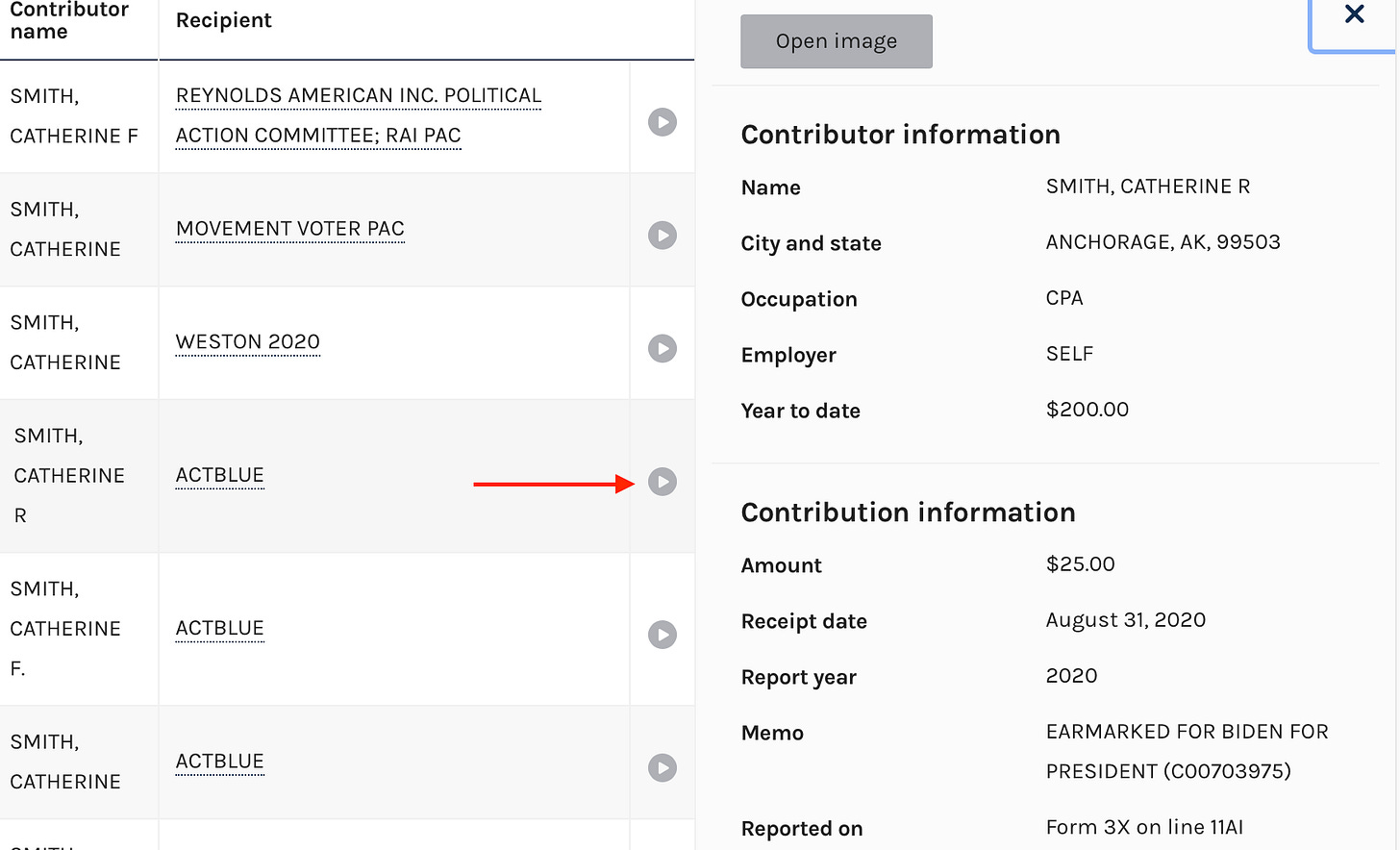 Here, the information is expanded to see the candidate the donation actually went to ("earmarked for"). In addition, there are small, $3 processing fees with donations on ActBlue—in that case, the results after expanding the information will say "Contribution to ActBlue".
So, what is ActBlue exactly?
ActBlue is a fundraising platform for candidates and organizations. Instead of creating their own platform for donations (a heavy software lift), it's easier for candidates and smaller organizations to utilize the existing website.
So no, it's not a bunch of "pre-paid credit cards" or shadow people—it's simply a platform to facilitate the technical side of raising money (read about it for yourself here). Republicans even have their own equivalent, called "WinRed".
Have a question of you own or question about this data? Let me know here or below. Extra thanks to new subscribers for taking a chance on me. And as always, happy searching!